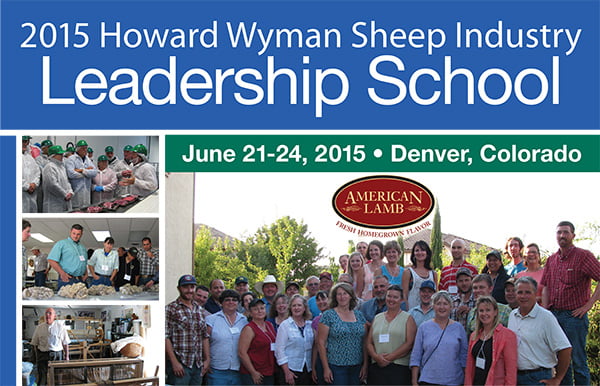 Application Deadline is April 1st for 2015 Howard Wyman Sheep Industry Leadership School
Tours will include visits to feed lots, Superior Farms Processing Plant, lamb pelt grading, an ethanol and by-products plant, as well as other related industry information. Ron Cole, who holds a degree in Animal Science from Colorado State University and has worked in all phases of livestock, grain and meat reporting both at the local and national levels, will direct the 2015 Leadership School.
HOW to APPLY
Applicants must be 20 years of age or older. A group of 26 individuals will be selected. Once accepted, a $200 per person registration fee is required to secure placement. Applications must be received in the NLFA office by e-mail or fax not later than Wednesday, April 1, 2015.
Applicants will be selected following the cut-off date and those selected will be notified as soon as possible. Participants are responsible for the cost of their own travel to and from the school, including transportation from the nearest airport. Basic information will be provided in terms of proximity and options for shuttle or taxi service.
During school NLFA covers the cost of meals, lodging and any tour-related expenses. In terms of lodging, roommates will be assigned based on double occupancy rooms. A couple may apply to attend; however, both must be involved in the sheep business and each must complete and submit an application. There is no fee to apply.
Complete an application form (pdf) and submit electronically or download the PDF and return by mail or fax (503) 585-1921.For more information, call the NLFA office at 503-364-5462 or e-mail: info@nlfa-sheep.org.
Copyright © 2014 NLFA, All rights reserved.
Our mailing address is:
1270 Chemeketa St. NE, Salem, OR 97301