About Romneys
Follow the links above for information on Romney sheep in the United States and Canada.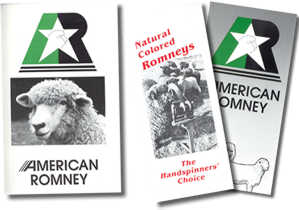 The information here is also published by ARBA in the 13-page booklet "American Romney", a nine page "Romneys for Youth" booklet, and two brochures at right. Copies of each of these are available from the ARBA Secretary.
You can download PDF copies of this literature, too:
American Romney Booklet (2.8 MB PDF)
American Romney Brochure (0.3 MB PDF)
Romneys for Youth Booklet (1.8 MB PDF)
Romneys for Youth Brochure (0.5 MB PDF)

View or download ARBA's promotional video combining the information in the booklet above with live, color footage.
The American Romney Breeders Association thanks the following Romney breeders and friends who generously contributed to the text and photographs for the booklet which is reproduced here: Gaylia Bullock, Larry Bullock, Jane Caulfield, Kim Caulfield, Morris Culver, John Landers, Mary Pratt, Al Schwider, Lin Schwider, Suzanne Sears, Ron Starz, and to everyone who helped in any way.