Juniors
Welcome to the ARBA Junior page – dedicated to our enthusiastic young members!
The ARBA mission statement for youth is:
"To encourage youth to care and maintain Romney sheep as a way of learning responsibility. To encourage youth to join with other Romney youth to learn sportsmanship, enhance social skills, ethical behavior, leadership traits and a better understanding of success and failure."
For more information on Romneys for youth, see:
Our latest articles relating to ARBA Juniors are listed below. For older Juniors articles, check our Juniors Archive.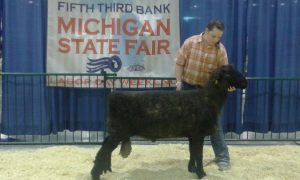 The district 3 regional show was held in Novi, Mi over the Labor Day holiday weekend. We had a total of 26 head in the Jr. show with 32 head in the open show. In the Jr. show, Caitlin Plank won champion ram and ewe in the natural colored division and Katie Hacker and Ethan Plank winning champion ram and ewe respectfully in the white division. The open show champions were a little different with Penny Swearingen winning the champion ram and Katie Hacker winning the champion ewe in natural colored division. The white open show champions were Ethan Plank winning both champion ram and ewe. The champions in each divisions were awarded certificates from donated sponsors. I would like to thank the sponsors which were the following: Banner Sales Management, Ketcham Sheep Equipment, and Mid-states Wool Growers. It should also be noted that Penny Swearingen won the champion over all fleece show with a natural colored fleece.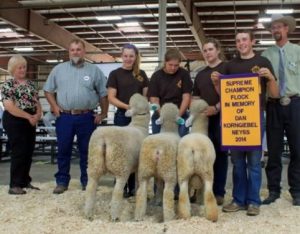 The NEYSS was a success once again. Romneys were well represented with 63 head and 17 youth. The sheep looked awesome. All were of good quality, fitted well and in good condition. Our kids are doing a great job. Every year the bar is set a little higher and our kids are taking that challenge seriously. The weekend is very busy with kids helping their friends show and then the help is reciprocated in the romney show ring. Most kids end up showing several breeds and the friendships made at this show will last a life time. The friends I have made at these shows, youth and adults, make my attendance not mandatory but a fun time that I look forward to. Many photos were taken and I tried to disperse them as best I could. Unfortunately I couldn't identify everyone in the pictures when posting to FB. If anyone wants to tag folks or if you want any of the pics that I took, just give me a call, text or email.
I didn't really have a lot of work to do this year at the show, so had more time to socialize. I spent a lot of time with romney breeders discussing next years shows in July….All American Jr Show will be in West Springfield, MA on July 3rd thru 5th, 2015 ….followed by the NEYSS the following weekend, both at the same facility (BigE fair grounds). Families traveling from afar or even close by will be able to leave their sheep in between shows. The idea behind this is to encourage folks to stay for both shows and travel from further distances. There will be a few days in between shows where families can relax, site see or whatever they desire. My personal hope is that we can plan some fun and educational events on these days where exhibitors, families and their siblings can participate. There should be folks around to help with your feeding if you leave for the day or need to go home etc. So most of my weekend time was spent gathering ideas from some very smart savvy exhibitors and family members. My head was swirling with ideas, now to make them happen. Information will follow as they develop.
To my knowledge, there was only one futurity lamb showed at the NEYSS. Katie Bombria purchased a very nice black ewe lamb from Ethan Kennedy in the Private Treaty Sale, held in conjunction with the NEYSS, and then showed it the following day. Congrats to Katie and family….and Ethan for consigning such a nice ewe.
Lastly, I am not going to list all the results of the shows because I was so proud of everyone, and they are all winners in my book. Results can be found on their web site. But I would like to mention that Supreme Flock was won by Ethan Kennedy of NY, this was the first time that Romneys have ever won this class and that is quite an honor.
Thanks for all the support from the youth and their families, and the folks who run this show every year.
Charlene Carlisle
Little Hooves Romneys
Romney breeders entering sheep for sale in Maryland and Ohio have provided the initial funds to support the first year of the Futurity For Youth program. Seven animals sold in Maryland were nominated as futurity animals, at a cost of $20 per entry to the seller. At the Romney Specialty Sale in Wooster, Ohio, twenty two animals were included in the line-up for futurity shoppers.
The program received $580 from these two sales, giving the program funds to use as youth show Romney sheep at local, regional and national shows. At the end of the show season, reports will be compiled and funds will be distributed to those youth who have submitted the futurity reports to the ARBA secretary. Reports from shows need to be completed by the exhibitor, signed by the show superintendent and sent to the ARBA secretary within 14 days of the show.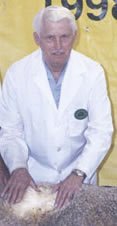 ARBA is proud and pleased to announce the Sixth Annual Morris Culver Memorial Scholarship. Morris passed on January 11, 2007, but not before a lifetime of achievement and service that touched all who knew him. Morris was a pioneer in the American Romney Breeders Association. He was a twelve year president of ARBA. He registered the very first natural colored Romney in the United States, in 1972. Morris was very active in judging both sheep and wool.
When Morris was a youngster he was a member of 4-H and FFA. This start led him to a lifetime devoted to education. Along with his career in elementary education he also taught small flock management classes at a community college in Eugene, Oregon. Morris studied the properties of wool along with genetics and wool quality. He held workshops on spinning and dying wool, and how to select fine fleeces. Educational displays were always a part of his sheep exhibit at county fairs, whether it was a selection of colored roving or a sheep half shorn to help the public see the amount of wool on an animal.
We urge all eligible ARBA juniors to take advantage of this opportunity. Click to download the rules and application (PDF). The deadline is August 31, 2014. Good Luck!
The Morris Culver Memorial Scholarship Fund needs your help to honor his memory. Please send your donations and gifts to the ARBA office. Thank you!
The American Romney Breeders Association will sponsor a Romney ewe lamb and yearling ewe futurity for 2014 on a trial basis. Continuation for future years will be determined after evaluation of this year's level of participation. The development of this Futurity is an effort to get junior members more interested and involved, as well as, having the consignors take an active interest in Romney promotion through our youth. The Futurity will make it beneficial for breeders to consign their very best animals to sales and motivate junior members to purchase high quality breeding stock.
See the full explanation of the futurity on the Juniors page or in the current edition of the Ramblings.
Following are the Futurity documents:
This summer was a busy one. I attended multiple youth shows, some as close as my back yard and others as far as 700 miles. Each offered something for everyone, some bigger than others but all a great learning experience whether you were an exhibitor, a breed representative, a parent, or just maybe had an interest in seeing how different shows were run. Whatever the reason, make the most of it, experience all that you can, and then make a conscious effort to share the positive points with other folks who share these interests. By traveling outside of your comfort circle, it offers you the opportunity to expand that circle, whether it is with new ideas, new friends or new enthusiasm. I usually come back physically tired but mentally stimulated. I will share briefly the shows that I visited.