By: Morgan Fitzsimmons
It's hard to believe that another All-American Junior show has come and gone. This was my first year as a Romney exhibitor at the All-American and it was truly an exciting and wonderful show. Many exhibitors were able to see their hard work and efforts pay off. The All American was run well by the many volunteers who worked to make sure the show was a success. It was great to be introduced to Romney breeders from the east to the west coast and create new connections to last a lifetime. Congratulations to all the youth exhibitors who participated in the show. In total there were 47 head of Romneys exhibited.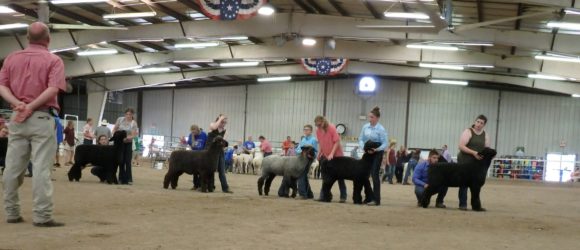 The National Romney Show and Sale will be coming to Wisconsin during the Sheep and Wool Festival on September 6th and 7th. The Sheep and Wool Festival has been a tradition in Wisconsin for many generations. The festival has visitors from across the country and many activities and events. As a Wisconsin native there are some sights to see and foods you should try before leaving Wisconsin. First, you have to try the cheese. When I say cheese, I'm not talking about only cow cheese but also sheep or goat cheese. Due to Wisconsin's diverse dairy we are home to many unique cheeses including sheep cheese! If you are looking to take some time away from the show, there are wonderful trails, state parks, and lakes that are beautiful in the fall. There is never a shortage of good places to eat and visit while in Wisconsin. Wisconsin is the dairy state, but it is full of passionate people who love their sheep. it is very exciting to welcome Romneys to the dairy state.
As a new junior member, I am excited for the upcoming shows. Good luck and best wishes to everyone as they show at state fairs and wrap up summer. I hope to see you in Wisconsin this fall!