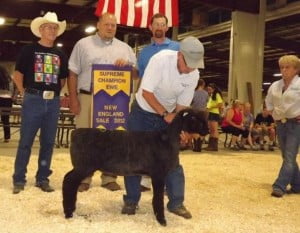 The 2012 New England Sheep Show and Sale was held in Springfield, MA in conjunction with the North East Youth Show last weekend. Romneys are always very well received in this geographical locale and this year was no exception. I am pleased to report that a new record was set for Romney ewes being sold in a public auction. The new record was captured by the Julian and Moore Sheep Co when their Natural Colored late spring ewe lamb, Julian and Moore 233, was sold on the auction block for $2300. The ewe was purchased by a breeder in Delaware, Austin Dean, one of our newest junior members. This ewe lamb was named Supreme Champion Ewe of the sale. Supreme show judges included Graeme Stewart, Jeremy Etzler and Matt Scramlin, all experienced judges with breed standard knowledge. Congratulations to Ed and Helen Julian for their consignment.
Consignments were received from Anchorage Farm, Hayward Farm, Julian and Moore Sheep Company and Little Hooves Romneys. Eleven lots were sold with a sale average of $650. Once again, Romneys are making a positive impact and staying in the public eye.
Thanks to the New England sale and show committee for doing a fine job with promotion of this sale for the Romney breed as well as the other fifteen breeds. And a special thank you to the Romney breeders for supporting this venue.